The sceptics have been proven wrong; social media is more than just a plethora of selfies and food. The Internet and Social Media aren't just passing fads, Africa alone has over 300 million internet users–this makes up roughly 10% of total global Internet users. With this being said, it's no surprise that engagement on social media platforms has drastically increased from the year 2000 until now.
With the rapid growth of Social Media engagement, more platforms have surfaced with advanced features. The forecast for 2018 Social Media trends has already surpassed many expectations, new advances include Virtual Reality, Artificial Intelligence, ChatBots, niche apps, and so many more. All of these developments cater to the different ways in which people use Social Media. The most basic use being communication. With data charges becoming more affordable in South Africa, the percentage of South Africans using Social Media has increased to 29% when just looking at Facebook. Twitter has had a slower incline, but, nonetheless, the number of users has increased from 7.7 million to 8 million and it comes in at a close second to Facebook with 45% engagement. Instagram, another globally popular platform, comes in at a close third with 35% engagement.
Is the investment in time and money feasible?
For your business, social media platforms allow you to connect with your target audience in real-time at no cost. You are also able to filter your target market reach: for example, on LinkedIn, you can segment your reach by location, company, job, title, gender, age, and a list of other options. For more social platforms like Facebook, Twitter, Instagram, and Pinterest, you can segment who you're targeting based on location, demographics, interests, behaviours and connections. The great part is that you can track the insights and performance metrics in real-time to see how effective your social media presence is for your business. Alternatively, there are options to schedule posts ahead of time for further convenience and to make the process less time-consuming.
The real-time aspect of Social Media can result in high conversion leads. This, in turn, increases sales and customer retention, as well as high-quality timely service. If you are in the health profession, you could even advance your practice by having remote consultations via Facebook Spaces (virtual reality).
How far can my business' reach go?
Customers value positive experiences with businesses. Social Media can help with that by offering customers more access to your business 24/7. Customers are more inclined to trust businesses they can find on Social Media. This allows them to leave reviews or address their queries, express their positive or negative experiences, and to look at other customers' experiences. To further support this: 67% of customers turn to Social Media for customer service. Aberdeen Group's study shows that some global companies with social engagement have seen annual financial growth up to 7.5% vs. the 2.9% of companies without social engagement.
For online-based companies like RecoMed, social media presence increases the web traffic to the online booking site. Engagement is imperative for this aspect, as the more shares and retweets the higher the search ranking (this is where SEO comes into play). This is advantageous for health practitioners who are listed on RecoMed, as they too can capitalise on RecoMed's exposure.
It's time to get started
Setting up social media accounts is relatively easy, all you need is an email address. Find out how you can set your business up here. If you are already on Social Media, there are several ways to optimise your social media presence; you can find out how here.
Follow RecoMed on Facebook, Twitter, Instagram, Pinterest, LinkedIn and YouTube for relevant health-related news and updates!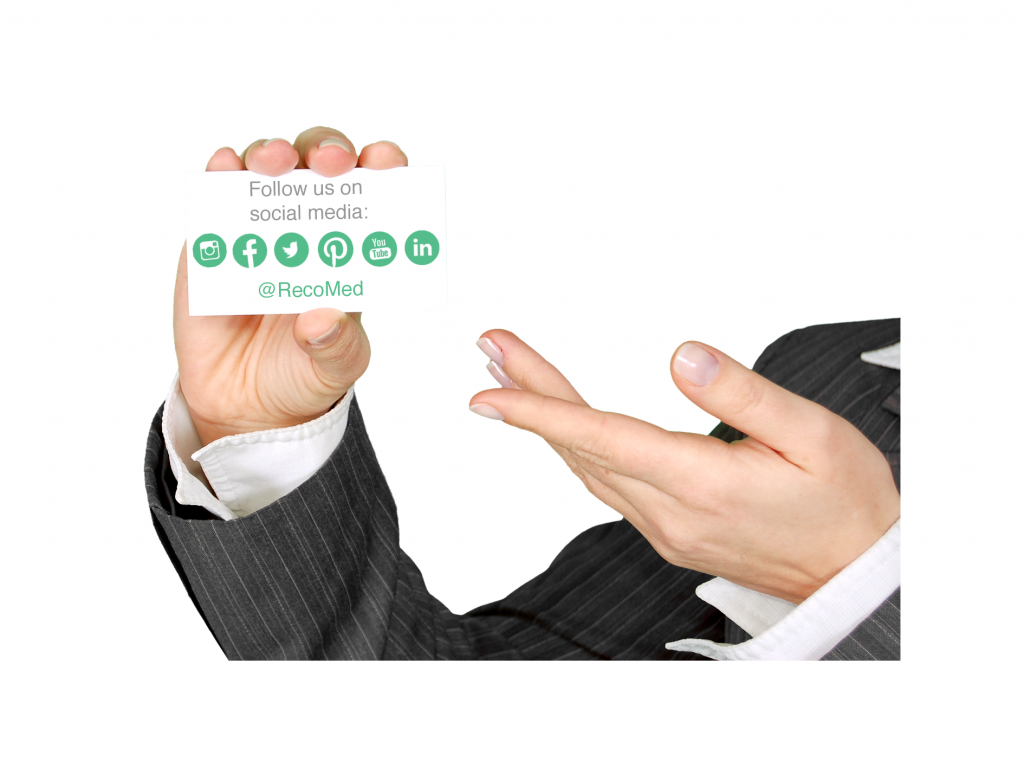 Bibliography:
Copp, E. (2017). 10 Benefits of Social Media for Business. [online] Hootsuite Social Media Management. Available at: https://blog.hootsuite.com/social-media-for-business/ [Accessed 5 Feb. 2018].
Fin24. (2017). Social media deepens its hold on SA – all the stats. [online] Available at: https://www.fin24.com/Tech/News/social-media-deepens-its-hold-on-sa-all-the-stats-20170920 [Accessed 31 Jan. 2018].
Internetworldstats.com. (2017). Africa Internet Users, 2017 Population and Facebook Statistics. [online] Available at: http://www.internetworldstats.com/stats1.htm [Accessed 29 Jan. 2018].